Courtesy of Huff Post Education
Speaking on the campaign trail in Virginia Wednesday night, Mitt Romney gave some choice advice to the future students,
Think Progress reports
.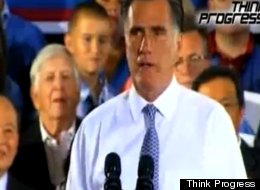 "I think this is a land of opportunity for every single person, every single citizen of this great nation. And I want to make sure that we keep America a place of opportunity, where everyone has a fair shot. They get as much education as they can afford and with their time they're able to get and if they have a willingness to work hard and the right values, they ought to be able to provide for their family and have a shot of realizing their dreams."
The statements come after the former governor of Massachusetts backed President Barack Obama's April proposal to extend current interest rate levels on federal student loans, and after he suggested that same month that young people "take risks" and even borrow money from their parents to fuel success.
"Particularly with the number of college graduates that can't find work and can only find work well beneath their skill level, I fully support the effort to extend the low interest rate on student loans," Romney said in April. "There was some concern that that would expire halfway through the year and I support extending the temporary relief on interest rates on students as a result of student loans obviously, in part because of the extraordinarily poor conditions in the job market."
Legislators in the House and Senate passed the motions Friday, preventing the interest rates for 7.4 million student loans from doubling. The legislation now moves to the White House for Obama's signature